Public Art: opening our eyes in the pandemic 
"I always imagine seeing my work as part of a ruin, 200 years from now. What is it going to look like? My big inspiration is these renaissance frescoes, many of which are falling apart and have been heavily restored. To me that's the beauty of it."
Renowned muralist Josef Kristofoletti is the latest artist to join our 'Because' event series, where we invite creative people who inspire us to discuss how they are making art in today's context. Josef is passionate about our relationship with space and environments. But, during the pandemic, our access to art has been restricted. Could public art be a way to reconnect us?
Tau Ceti (pictured) is one of Josef's most famous pieces. In a time when so much art is inaccessible due to a global pandemic, this piece has grown in popularity, and - despite the intentions of Josef that this wouldn't happen - received wild virality in the age of social media.
The remarkable 100 ft painting is located on an inverted corner of a 10-story car park in Austin, Texas. Josef first discovered the potential landscape when observing it from a building across the street, noticing that at a certain time in the day, this inverted corner reflected a powerful, cascading, undulating light. It's at about 5:30 in the afternoon when that street corner lights up from top to bottom, just as people would leave work. Josef describes the combined effect of the special light and the mural as "an intense psychedelic experience".  
In a time where COVID 19 is monopolising most of our public spaces and limiting our access to cultural institutions, this piece continues to thrive and engage people at a safe distance. Because of the scale, people can almost occupy the painting as if they were in an intimate gallery space. Despite Josef's attempt to detract people from taking selfies by painting an 8 ft white block at ground level, Tau Ceti' is one of the most selfie'd pieces of public art of all time.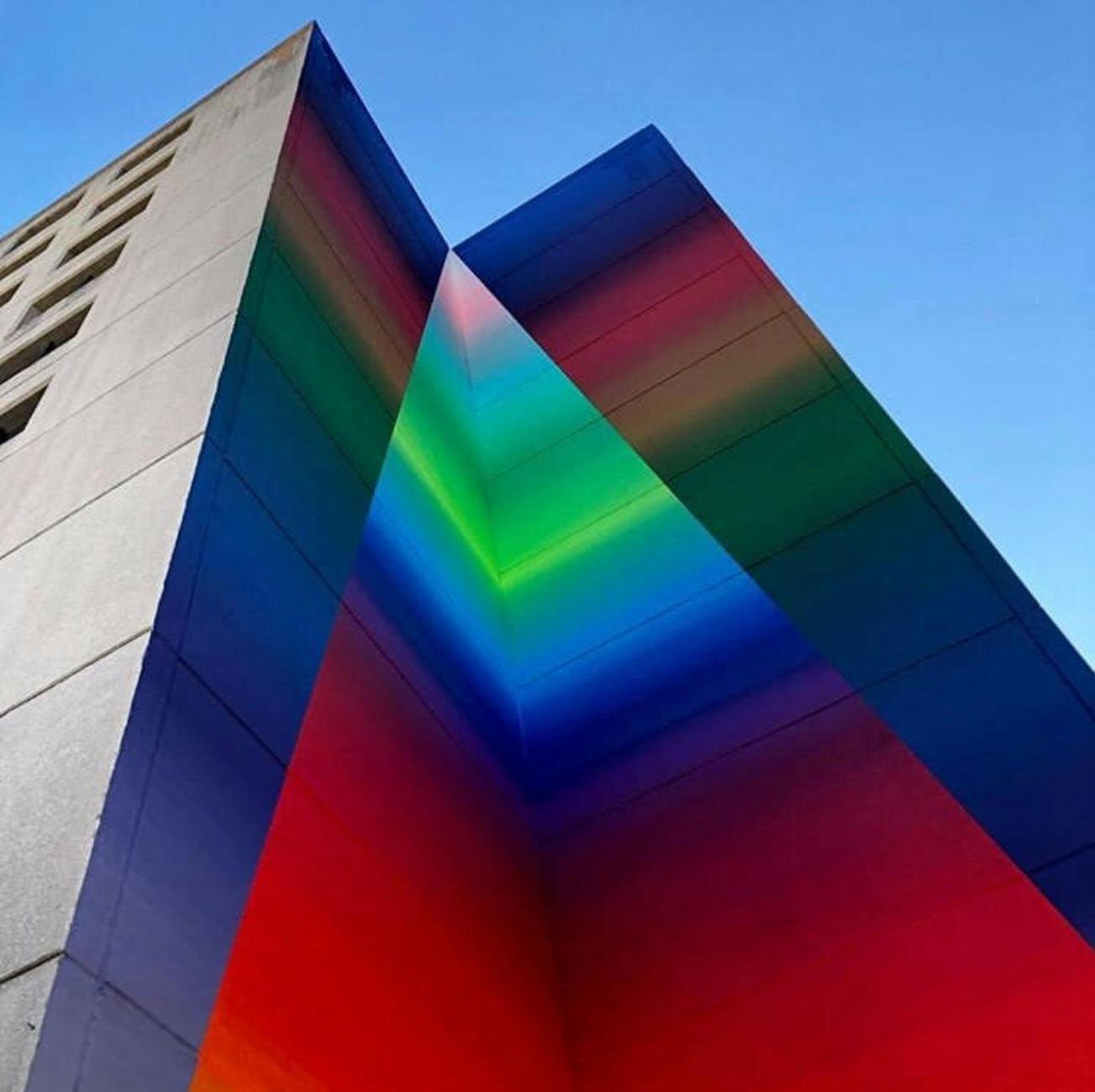 Public art improving our new world
When discussing the impact of large scale paintings, Josef finds the mysteries of space and the different perspectives the most interesting factor. Working at large scale, you can have various experiences of one piece, eg. you can see 'Tau Ceti' as something totally different from two blocks away.  
Josef feels optimistic about the future. "I imagined this digital future where people are just so hooked into their devices that reality drops away more and more. But maybe that's not the case as I think people are looking more at our environment, and there are signs that digital is making us more aware of the physical in some respects."
Josef feels he's just beginning to scratch the surface with his work. When asked about his passion, Josef simply states: "I'm passionate about changing the way environments and buildings look."
The pandemic has turned our world inside out and upside down, and the exterior of a building versus the lobby of a building, is now so much more accessible. Our world is changing due to the pandemic, and public art could play a major role in re-imagining our environment. Josef tells us our mood can be affected depending on the environment, and so he questions: "As a culture, do we want to be a strip mall architecture, or do we want to be a building designed to make us feel a certain way? I'm influenced by my surroundings and my mental state is impacted by the building I'm in.
"Architects are constrained by budgets. But with painting you can add this extra element to buildings that's both cost effective and has a huge impact in terms of what it makes us feel about our environment and the buildings we're surrounded by."
Architecture is a major inspiration for Josef. "We live in a time where we are seeing architecture melting with muralism all over the world now. You go to any major city, and you can see the phenomenon of street art and muralism, it very much melds with our selfie culture, for better or worse. But it's making people look at space, look at environments, architecture and the world around us in a new way. I'm really excited to work in this field of public art: how architecture and public art can change our experience of our world.
"Working with architects would be, for me, a dream project - to not just add a mural at the end like a sticker on the side of a building but to make it integrated into the three-dimensional design."
But it's no longer only large scale art that fill's Josef's mind. "Scale just has a different kind of effect on a person. If you're to confront a 10-story building, it has a different effect on you compared with a 12 inch painting, for example. I'm actually working on a series of paintings that are microscopic. I think it will be really interesting to have a body of work at the other end of the scale where you have to look under a microscope to see it. 
"I'm interested in those ideas of small to large and that to me is one of the mysteries of space and our existence: how things change at various scales, how things change in shape, how they organise in space based on that microscopic level or something on the scale of a building."
Josef's origin story
Growing up: from Transylvania to Ohio. 
Spending his early life in Transylvania in a family of train engineers, it wasn't until Josef moved to Ohio that his inspiration was sparked and the foundation for his career began to be laid. He spotted a graffiti-covered freight train and "loved the idea that this thing was barreling through America from coast to coast and people could see it." Enthralled by the idea of thousands of people seeing this artistic expression, this was the moment where Josef understood a whole new visual language - and to this day he still remembers this train as "one of the coolest pieces of public art".
The move to large scale work.
Another one of Josef's key inspirations was metaphysical painter Giorgio Morandi, whose work Josef became absorbed in when studying painting at The Art Institute of Chicago. Josef visited Morandi's work and house in Bologna Italy, where he was fascinated with Morandi's strict limitations in his work, painting the same objects over and over again, in different positions. But it was during this time in Europe that he made the shift from small to large.
"That trip stayed with me - the experience of seeing the frescoes and the street art and graffiti scene of Europe, all the stations and abandoned buildings with graffiti on them. I found them amazing. For me this experience of painting being part of the building really struck me. And I wanted to find a way to take my work to a new scale. Until then I'd painted small still lifes inspired by Morandi. But now I wanted to see how to take it to a different scale and this is when I started painting larger and doing murals."
Experimenting with public intervention
As Josef was finishing school he conspired with friends to imagine a mobile art collective, which became a retro-fitted minibus running on cooking oil from restaurants. The project was named 'Transitantenna' and involved the group of artists moving through Florida, pulling up in different towns, performing public interventions, painting murals and playing out ideas they'd come up with on the spot. This was Josef's first glimpse at public art and the impact it can have on communities.
Now more than ever, people need escapism and inspiration, and Josef's work is providing that to everyone.
A massive thank you to Josef for inspiring us with his take on public space, and giving us the optimistic outlook we all needed in 2020. 
Back